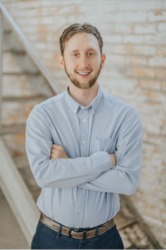 Zac Eyer is a recent resident of Sioux Falls, having moved there in February of '22. Born in Sioux City, IA, Zac grew up in Akron, IA, where he completed his high school education. Following graduation, he returned to Sioux City to pursue a career in the electrical field. After gaining five years of experience in the trade, Zac's interest shifted toward real estate. While in search of his first investment property, he discovered a deep passion for the industry. Zac's goal is to help individuals fulfill their dreams of homeownership and provide them with guidance throughout the complex real estate process.
In his free time, Zac indulges in various activities. He enjoys snowboarding, finding solace in the slopes, and the thrill of gliding through fresh powder. Zac also relishes leisurely walks with his dog Sunny, appreciating the companionship and the chance to enjoy nature. Furthermore, he values the company of friends, often getting together to create lasting memories and share moments of laughter.
Overall, Zac is dedicated to his professional endeavors and personal interests, striving to make a positive impact in the real estate realm while finding joy in the simple pleasures life offers.